The Broadband Resources for Cooperative Extension: FCC Broadband Map Edition
Take Action by January 13, 2023: Check Your FCC Broadband Map Data
en Español

North Carolina residents have a chance of a lifetime. Your action or inaction will impact generations after you. It is imperative that you check your data in the new Federal Communication Commission's (FCC) Broadband Map by January 13, 2023.
Why It Matters!
Better data leads to better resource allocation! If you need high-speed broadband, the data needs to support your need. You can now check what the FCC data indicates about connectivity at your home, farm, or business and CHALLENGE the FCC data.
Two Types of Challenges:
Location Information for home or business
Availability from Internet Service Providers
Location Challenge:
The location challenge is simple and straightforward. You look at a map and see if your correct structure(s) are designated as serviceable locations. If something is wrong, you can submit a challenge on the map. For example, on the farm my parents live on in Union County, NC, their residential location, indicated by a green dot, appears in the footprint of the old chicken house on their property. So I submitted a Location Challenge to get this corrected. The challenge appears as a purple dot in the image below.
Availability Challenge:
An Availability Challenge was also needed for my parent's home. Many years ago, cable TV was installed on our road, but for some reason, they did not run the cable past our farm. It stopped just up the road. Now Charter Communications (Spectrum) claims our farm is covered by their internet coverage. My parents cannot get internet from Spectrum unless they pay to extend the line to the farm. Therefore, I submitted an Availability Challenge, challenging Charter Communications (Spectrum) claim of internet coverage for their home.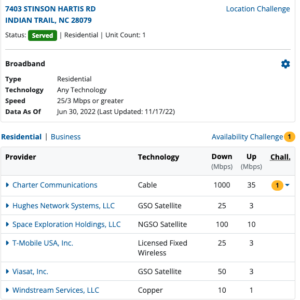 Why is this important? If my parent's home is labeled as covered with high-speed internet, funding would not be available to extend coverage to their home. This FCC Broadband Map will have a great deal of sway in funding allocations. That is why everyone needs to take action to be sure their map data is correct on the FCC map.
Here is the link where you can check your data:  FCC Broadband Map.
Here is the link to some resources to help promote the importance of this opportunity.
Here are some links to some How To Videos explaining the steps.
Visit the Broadband Resources page for information and ways to take action on broadband issues.
Click here on Broadband News to see broadband information related to N.C. Cooperative Extension